The Japanese director Makoto Shinkai's latest film, Suzume no Tojimari, will have its international premiere at the 73rd Berlin International Film Festival. It's the first Anime to compete in the festival since Hayao Miyazaki's Spirited Away in 2001. The plot of Suzume no Tojimari revolves around a teenage girl and a mysterious man who are trying to prevent disasters from happening in Japan. They also are accompanied by a boy who's been magically transformed into a chair.
Suzume no Tojimari will be released in various countries in Europe and North America in April 2023. Crunchyroll in partnership with Sony, Wild Bunch International and Eurozoom will distribute the movie in the United States, Canada and other countries. In addition to that, Sony Pictures Entertainment will distribute the movie in Australia.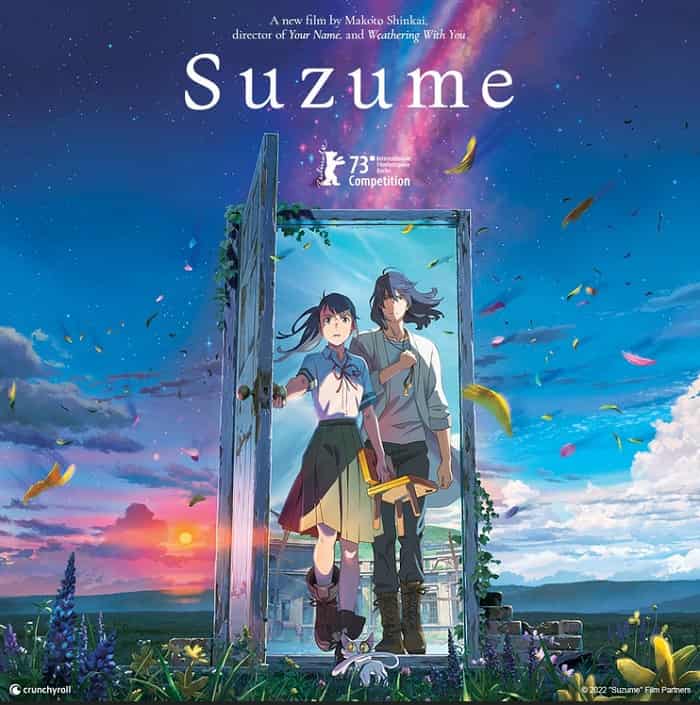 Here is the planned release date for the Suzume no Tojimari anime film in different countries
April 12 in France and Malta
April 13 in Australia, Brazil, Germany, Mexico and New Zealand
April 14 in Austria, Belgium, Canada, Gibraltar, Ireland, Luxembourg, the United Kingdom and the United States
Additional 2023 dates to be announced for additional Latin America and EMEA territories (Source: Crunchyroll)
When the movie first opens, the characters are searching for their hometown, which was destroyed by the 2011 Tohoku tsunami. As they search, they encounter a worm. Sota Munakata is the only person who can stop it from spreading, but he's busy taking care of his grandfather.
But then, Tamaki calls and demands that Suzume return home. She then offers to take her on a bus to Tokyo, but Suzume refuses. After that, the two of them end up in a dilapidated house. After that, Tamaki finds a diary page about a mysterious doorway, which she decides to bring back to life. And so begins a series of events that will entail a mystical quest.
This film marks a major career breakthrough for Shinkai. His last work, Weathering With You, grossed $13.5 million in its three-day opening weekend, making it the most successful opening for an anime film in Japan. However, the movie struggled to make much of an impact in the United States and Canada.