A number of Need for Speed Unbound screenshots have leaked onto the internet. The images reveal a somewhat cartoon-like visual style. While the game is still in development, it will be playable on the next-generation consoles. If you're curious about the game, you can check out the screenshots below.
A Japanese online retailer Neowing accidentally uploaded screenshots of the upcoming game. The retailer currently lists NFS Unbound only for PS5 with a release window of December 2, 2022.
The screenshots reveal the game's anime-inspired visual design and colourful presentation. The screenshots also show the game's rumored cel-shading style. While the official release date is not yet known, the game is expected to be available on old and new gen consoles as we all as PC.
The screenshots feature two in-game characters. As the name suggests, both characters are anime-styled. The game's art style also incorporates a more traditional racing game aesthetic. The game's product description states that the game "integrates the latest street art with realistic cars." The game also focuses heavily on character customization.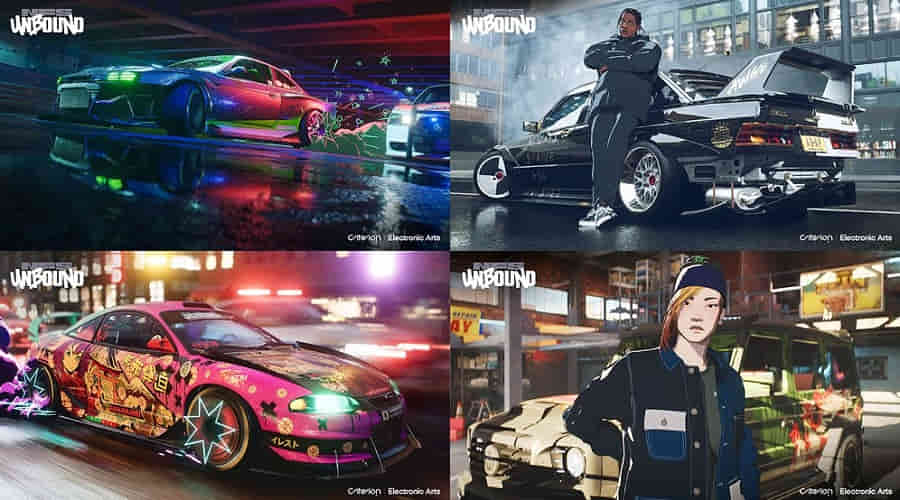 The official game website has a Neowing listing for pre-orders. This listing also has four screenshots and the official cover art. One screenshot appears to feature stylised A$AP Rocky, who was previously rumored to be part of the soundtrack. Neowing also mentions the involvement of hip-hop artist Brodinski. The game will release on December 2nd.
Notably, Electronic Arts has now officially confirmed the next NFS game reveal premier date for October 6, 2022. Although unofficial sources were brief, they managed to leak some screenshots from the game. The game was first reported in April, and the latest leak comes in August.