When will the PlayStation 5 restock in India? well, reports are suggesting that PlayStation 5 restock in India could be in June. PlayStation 5 went for pre-order in India at 12 PM (noon) on Thursday, May 27, and got out of stock within a minute. Now, PlayStation fans in India want to know that when will the PlayStation 5 Restock in the country again.
The Amazon India PlayStation 5 listing says "Currently unavailable (We don't know when or if this item will be back in stock)." While the Flipkart listing of the PlayStation 5 says "Coming Soon".
All the PlayStation 5 units went out of stock so quickly and unfortunately, there are no details on when the PS5 will be back in stock again. We shouldn't expect PlayStation 5 to restock in India anytime soon.
According to Gadget 360 report, Sony Center and Flipkart have said to expect deliveries starting June 7. By around 12:05pm. While Amazon is giving an approximate delivery date between June 8-11. Meanwhile, Croma was saying that it would deliver to my home by June 11.
However, there is no confirmed date for when the PlayStation 5 will actually restock in India.
Want to get updated on when the PlayStation 5 comes in stock again? Well, in this case, you can use Flipkart's "Notify Me" option if you are going to purchase PlayStation 5 from Flipkart. By doing this you can get the notification as soon as the PlayStation 5 restock on Flipkart.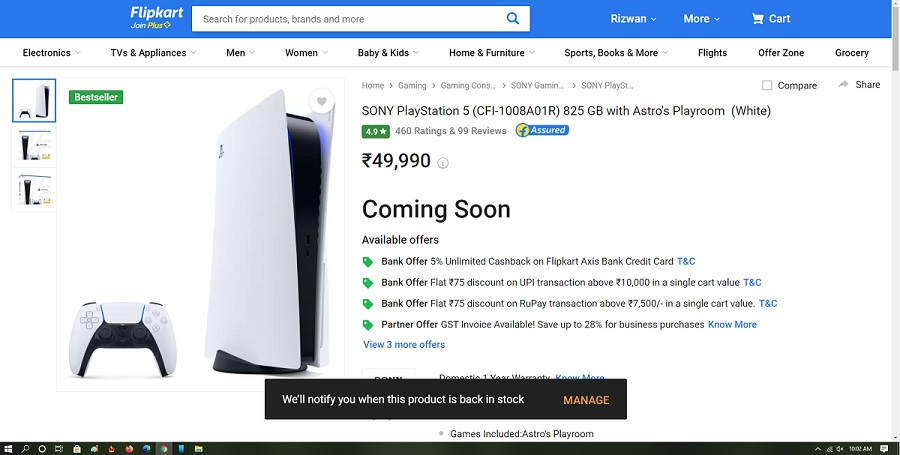 While, on Amazon, you can use the "Add to Wish List" option to add the PlayStation 5 to your product wish list. Doing this will get you alert about when the PlayStation 5 restock in India.